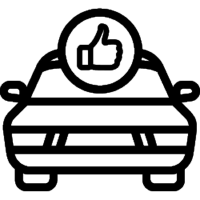 Lancaster Dent Removal
Expert Mobile Automotive Dent Removal
Nearly 90% of all dents can be fixed through Paintless Dent Removal.
If you have a dent in your car and the surface paint is intact, Lancaster Dent Removal is your solution.
Paintless Dent Removal (PDR) can be done on aluminum and steel panels and is more affordable than traditional methods of repairing dents. Minor dents literally disappear as if they were never there.
And you can keep your factory paint and restore your factory finish — no need for paint matching!
Lancaster Dent Removal is the only mobile dent repair company who will come to you to offer our expert services, at a fraction of the price you will pay at an auto body shop. We are also the only PDR company in the Lancaster area certified to perform paintless dent repair for Tesla other electric vehicles.